Anna Maria of Aurora Classic Car Show – 8/20/2022 – SAVE THE DATE!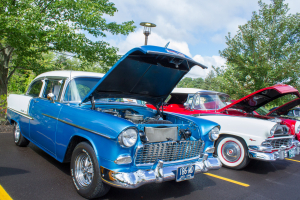 Save the Date!  Saturday, August 20, 2022 – 9am to 1pm!  Don't miss one of the BEST classic car shows in the area!  Door prizes, 50/50 raffle, Chance Auction, Delicious Food.  It's always a good time, and best of all, the proceeds (every penny) benefit the Alzheimer's Association!  For more information or to register your classic car, contact Evan Webster, Director of Community Relations, at 330 562-0600.
---
Neither Rain nor Sleet nor Snow… Will Keep us Away…
Every Resident, Every Family, Every Day…whether that day is sunny or snowy, like today!  The administration of our family-owned and operated (for over 55 years) Campus of Anna Maria of Aurora simply went above and beyond to make sure our residents were cared for by a well-staffed building.   We are a 24/7 facility and can't shut down when the weather is inclement.  Take a moment and view this video with Community Relations Director Evan Webster!   You'll be amazed!
---
Campus of Anna Maria of Aurora – Guest on New Day Cleveland!
Our own Evan Webster (community relations director) and Aaron Baker (administrator/owner) were guests on New Day Cleveland on Tuesday, Jan. 11, talking with host David Moss about our family-owned (for almost 60 years) skilled nursing facilities and assisted / independent living.  When looking for quality care for your loved one, look no further than your own back yard!  Video of segment attached.  For information, please contact Evan Webster at 330/562-6171 x228.
---
Updated Indoor Visitation Policy –
Please click on the red Visitation Guidelines  tab above for the latest information.  As always, please contact us at 330/562-6171 with any concerns or questions.  Thank you as always for your understanding and cooperation.
---
Chagrin Valley Chamber of Commerce Festival of Trees
Stop by Riverside Park in Chagrin Falls and check out all the beautifully-decorated trees, especially the Campus of Anna Maria tree!  Many thanks to Tiffany Bland (HR Coordinator) and Amber Reed (Activities Director) for taking the time to decorate our tree!  We think it's a winner; do you?  Click on the link below to vote! Deadline is January 7th.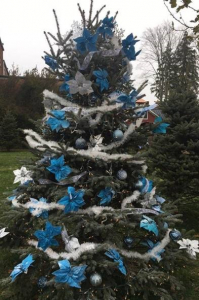 https://docs.google.com/forms/d/1RjGifjfCyE1xUpSImghTnUeieNJ94mELapTAGnuy7JI/edit
---
← Older posts
Newer posts →
Family Matters Newsletters
Current Monthly Activity Calendars