Join the Fun at the Anna Maria Charity Car Show – August 21, 2021
This year's car show will be bigger and better than ever!  Come on down to Anna Maria (main parking lot) on Saturday, August 21, 2021, from 9am to 1pm.   Door prizes, 50/50 raffle, chance auction, great food, and of course, lots and lots of classic cars!
*All proceeds to benefit Alzheimer's Association
Anna Maria Charity Car Show
Saturday, August 21, 2021
9am to 1pm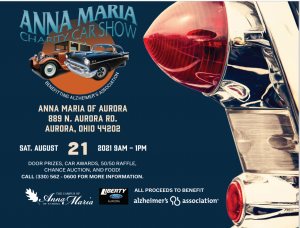 ---
Visitation Guidelines Updates- 8/6/2021
Please click on the RED Visitation Guidelines tab above for the latest information.  If you have any questions, please contact 330/562-6171 (Anna Maria) or 330/562-3120 (Kensington).  Thank you!  Families will continue to be updated via email from administration regarding changes.
---
Mask Up – Surgical (not cloth) Masks Required!
We ask that you kindly "mask up" BEFORE entering any of our buildings.   A mask will be provided if needed.  Thank you for keeping our residents safe!
---
Sealcoating of Campus of Anna Maria Parking Lot and Driveways
Dear Family Members & Responsible Parties:
We will be closing portions of parking lots on Campus on the below specific dates to perform sealcoating work. Please take a quick look at the attached color-coded map to see what areas will be closed. Thanks in advance for your understanding.   We strongly advise that families avoid visitation on the dates stated below:
Day 1 – Red Image – Sunday, July 18
Day 2 – Yellow Image – Wednesday, July 21
Day 3 – Green Image – Friday, July 23
If a day is called due to weather the make-up day will be Monday, July 26.   We apologize for any inconvenience this may cause.
---
Congratulations Evan Webster! Grand Marshal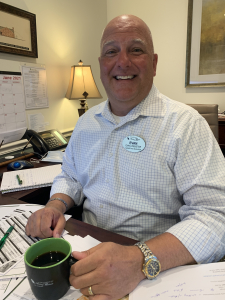 We are so excited to announce that our own Evan Webster, Marketing Manager for the Campus of Anna Maria of Aurora Assisted and Independent Living, was chosen as the Grand Marshal for the City of Aurora 4th of July Parade.   We are so proud of this honor bestowed upon Evan.  He is an outstanding citizen and employee.
---
← Older posts
Newer posts →
Family Matters Newsletters
Current Monthly Activity Calendars