Parade for Families of Nursing Home Residents!
Save the date!  Tuesday, June 16 at 2:00pm!
For nursing home residents and their families… We are planning a parade of cars (families driving by slowly in their cars) through the Campus parking lot.  The plan is to have as many residents outside as possible (masked and socially distanced) along the route.  More details to come, but please save the date!
---
Outside Visitation – Assisted & Independent Living – Begins Monday, June 8
Dear Families and Responsible Parties of our Residents:
I'd like to provide information on outdoor visitation for our assisted and independent living residents, beginning on Monday, June 8.  Please note:   Outdoor visitation for our nursing home residents remains restricted at this time.  We'll continue with Skype and window visits for the time being.
Visitation will be by appointment only. The facility has established an account on SignUpGenius to provide a convenient mechanism to set up appointments. To Set your appointment, go to https://www.signupgenius.com/findasignup and enter this email address into the box labeled "Search for a Sign Up": lmcfarland@annamariaofaurora.com. Note that there are various ads that attempt to have you click on them, but ignore them and just scroll down to get started setting visitation appointments. Lisa McFarland, Assisted Living Activities Director, will be managing the appointment schedule. If you need help, you can call Lisa at (330) 562-6171. Also note that we've provided the schedule through June and you may have to click to additional pages to see the entire month. Please do not schedule more than 2 visits per week at this time.
The visitation location is the newly installed patio at the back assisted living entrance (cul de sac). There is a large umbrella to provide shade and cover in inclement weather.
Both residents and visitors will have to wear masks, and remain 6 feet apart. We ask that visitors bring their own face masks, although we will have masks available if you do not have one. A facility staff member will monitor the visit in terms of screening visitors (taking temperature & asking a few questions regarding signs & symptoms, maintaining a visitor log) as well sanitizing of furniture before and after the visit.
Visits will be for a maximum of 25 minutes, allowing the staff member a few minutes to sanitize before the next visit.
Current days and times: Mondays, 9am to noon; Wednesdays, 3pm to 7pm; Saturdays, 10am to 2pm.
Visitations will be limited to 3 visitors per visit and two visits per week. Children are welcome as long as they are supervised and following these guidelines.
No food or beverages shall be permitted during the visitation. All items brought from home for a resident must follow our drop off policy (main entrance). Since we are a no-smoking campus, smoking is also not allowed. Pets are also not allowed due to the temptation to break the 6 foot rule.
Again, we will adjust the visitation program along the way to the needs of you and your loved one.
As always, please contact me with any questions. (330) 562-6171.
Sincerely,
Aaron Baker, Administrator/Owner
---
Check out our "Healthcare Heroes" Video! Many, Many thanks for all of your Support!
---
May Family Matters Newsletter
Please check out the May edition of our Family Matters Newsletter!
---
Making People Happy Makes Me Happy! (Mickey Mouse)
Since he's not busy spreading happiness at Disney World right now, Mickey Mouse stopped by for a few "window visits" with the residents at Kensington at Anna Maria.   Mickey definitely put many a smile on many faces.  Thanks for spreading the love.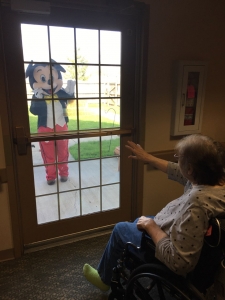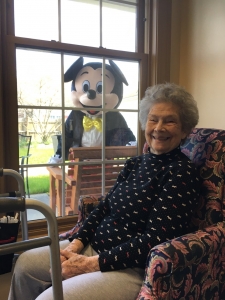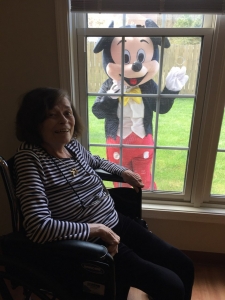 ---
← Older posts
Newer posts →
Family Matters Newsletters
Current Monthly Activity Calendars