Recordbreaking Year at the Car Show!
Thanks to everyone who made this year's car show a success.  Turnout was very impressive, with 115 cars registered. Attendees were enthusiastic to be there, and everyone was respectful in keeping safe. Altogether, $15,000 was raised to benefit the Alzheimer's Association – an all-time high!  We are truly grateful to everyone who came out to enjoy the event and support a worthwhile cause.  Check out some pictures below, and a short video here:  Car Show 2021
A couple was celebrating their 40th wedding anniversary – with the same car!
---
Updated Visitation Guidelines 9/1/2021
Please refer to the RED visitation guidelines tab (above) for the most up-to-date information on visitation.  PLEASE CONTACT 330 562-6171 with ANY questions.  Thank you.
---
Join the Fun at the Anna Maria Charity Car Show – August 21, 2021
This year's car show will be bigger and better than ever!  Come on down to Anna Maria (main parking lot) on Saturday, August 21, 2021, from 9am to 1pm.   Door prizes, 50/50 raffle, chance auction, great food, and of course, lots and lots of classic cars!
*All proceeds to benefit Alzheimer's Association
Anna Maria Charity Car Show
Saturday, August 21, 2021
9am to 1pm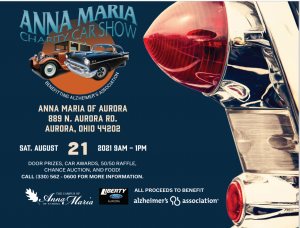 ---
Visitation Guidelines Updates- 8/6/2021
Please click on the RED Visitation Guidelines tab above for the latest information.  If you have any questions, please contact 330/562-6171 (Anna Maria) or 330/562-3120 (Kensington).  Thank you!  Families will continue to be updated via email from administration regarding changes.
---
Mask Up – Surgical (not cloth) Masks Required!
We ask that you kindly "mask up" BEFORE entering any of our buildings.   A mask will be provided if needed.  Thank you for keeping our residents safe!
---
← Older posts
Family Matters Newsletters
Current Monthly Activity Calendars