Red Cross Blood Drive
Please be a donor and save a life!
Thursday, April 16
2-7pm
The Atrium at Anna Maria
800 N. Aurora Rd.
​Please call 330 562-7777 for more information or to register or visit the Red Cross website, or better yet, just stop by!  Walk-ins warmly welcome!
---
Kensington Administrative Team Video
---
Chili Cook-Off – A Fundraiser for the Alzheimer's Association
Thursday, October 17, 2019
10am to 2pm
Norwood "A"
Anna Maria Building
Come and enjoy samples of delicious, homemade crocks of chili as well as a bowl of your favorite!  Vote for your favorite chili!  We hope to see you there!  For more information, contact Lisa at 330 562-6171
---
Anna Maria Top Corporate Fundraiser for Alzheimer's Association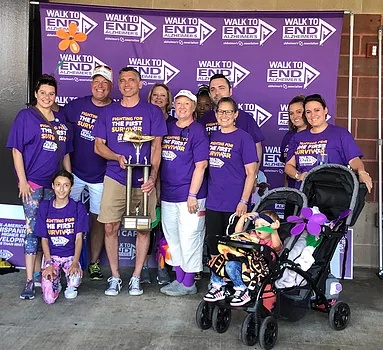 We're #1!  For the third year in a row, The Campus of Anna Maria of Aurora was awarded the Akron "Walk to End Alzheimer's" 'Stinky Shoe'" trophy for being the largest contributing corporate team in the area.  This year, we raised over $16,000 for the Alzheimer's Association, more than $2,000 than last year.  Wow!  Since 2012, we've raised more than $67,000.   We are so proud and excited about this.  Thank you to all who support our various fundraisers throughout the year!
---
Family Matters Newsletters
Current Monthly Activity Calendars